1. Playing into the "gender role" mindset.
If the copier runs out of paper, and you're the first one to jump up and handle it, congrats. You've just volunteered yourself to be the copier girl, because if no one likes doing this and you've just shown you're capable (and willing), odds are the office folks will pawn this task off on you next time. The same holds true for things like bringing in snacks or baked goods, organizing the messy areas by the "water cooler", helping out with things requiring soft skills, and sometimes even things that aren't part of the office environment like projects men bring to the workplace from home. I've seen women who have volunteered to sew managers' clothes, bought snacks for meetings out of their own pocket because the staff didn't want to (even though it was a big customer), and even girls be called on as babysitters of the other men when they go missing. Not joking! When one or two managers couldn't be found once, they called the only female in the room to go fetch them, as if this was her job, and more importantly, as if this was okay. Why were they late to an important meeting, and why couldn't they just be called over the speaker system instead of wasting this poor girl's time? She's not their mother. Anyway, don't play into this mindset, or you'll be stuck in it and find it difficult to move forward. Even if you don't care about getting ahead at work, it's about the principle of the matter. Demand the respect they're not giving you by making you "the girl that cleans," "the girl that bakes", or "the girl that will find Eric."
2. Not asking for a raise.
How many times have you heard, "Don't ask for a raise, good employees get what they deserve in due time." ? It sounds familiar, huh? While it may be true, there is something to be said about having a conversation with your boss which lets them know where you stand. If they don't know what you've been doing all year, what you think you deserve, and what you expect once performance reviews come around, then it will be very awkward, and possibly disappointing when you need to discuss your merit and it turns out you didn't get a raise but Joseph (who didn't do that much) got a fat increase in his paycheck. I always advise my friends and family members to not compare themselves to others, because it's not healthy. All you can do is advocate for yourself, so focus on that. Don't assume managers can read your mind, because they can't. They also can't keep tabs on their many employees, so they may appreciate you jotting down what you've been up to so their decision is more informed. If you've laid out the facts, then their decision will be easier to make. And if it's not made in your favor, at the very least, you can have a productive conversation about where you stand, and why he/she thinks that based on the information you provided. Know your worth and fight for it. Don't feel you're being greedy, if you know you've worked hard.
I once had a coworker who was getting raises every single year despite the company's no-raise policy (cause of "tough times"), and when we asked him how he did it, he said, "I just asked."
Repeat after me: PERSISTENCE.
3. Caring too much about what people think.
Once upon a time, I had a boss who told me perception is everything. I want to emphasize this, because that whole year I felt brainwashed and manipulated. Everything I did felt wrong unless I had his approval. I mentioned I would be attending a women's alliance meeting, and he phrased it so that I left our conversation feeling like if I went he would think I wasn't using my time wisely and not give me more of the types of assignments I was seeking. When I spoke about my children or husband, I felt pressured to explain my decisions in a way that made it seem everything was under control and there was nothing slipping over into my work life, because he was asking about my family in a friendly manner yet weaponizing the information. For instance, the men in my group were younger than me with no spouse or kids and often stayed late or went to the gym after work and had other responsibilities, but he didn't care what they did. Yet, because I was finishing my master's degree and balancing motherhood on top of a full-time job, he rarely selected me for things during the 9-5 which had no bearing on my home life. I never even declined travel opportunities, yet guys who said they weren't feeling it when told travel was mandatory were introduced to directors for advancement opportunities. When I wrote an email to one of his colleagues, he said she would be calling me later because the way I worded it offended her. I tried to get ahead of it by apologizing myself, but she said that wasn't the case. He was essentially gaslighting me by changing the narrative of everything I did and telling me how people were perceiving me and my actions and how that would influence my career. Even up until the day I left for another role, he told me if I didn't stay in the next role for a certain amount of time, it would look bad and people would think I didn't know what I wanted. In reality, all I wanted was to be treated like a human.
Perception is not everything. If you spend your whole life caring what people think of you and your actions, you will not be happy, I guarantee it. Do you know how I know? Because it's common sense. Not everyone thinks like you, so of course they're going to disagree with your decisions sometimes, and you have to be okay with that as long as you can live with your own decisions. After all, you can't please everyone.
If everything you're doing is to build an image of yourself that isn't yourself, you'll lose your identity and be miserable–and all for nothing, because managers like the one I had are only in it to climb their own ladder and make the people under him feel like dirt so they're never brave enough to climb higher than him.
4. Trusting the wrong people.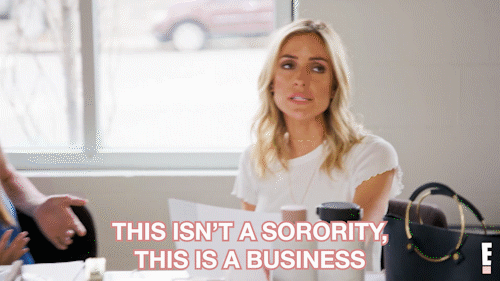 While I love the idea of a close-knit group as much as the next person, I have to refer back to something my mom told me when I was in school, "You aren't here to make friends, you are here to learn." The same applies at work. While it would be a bonus if you made lifelong friends at work, it's not what you're there for. You're not going to work to recruit besties for a weekend sleepover or spill your secrets over margaritas every week at Happy Hour. You usually go to work to share your talent with the world, show your boss what you're made of, and if you have goals, reach those goals. Unfortunately, some women end up trusting the wrong people and their secrets get leaked to the wrong people. Sometimes this happens after a fallout or when someone gets jealous or competitive, as the final blow to ensure that they're brought down a notch at a critical moment, or it could be that this "demise" takes place from the beginning, and someone a female employee thought they could trust such as a senior manager, or a meek coworker, is really feeding info to another person who's curious. Don't be fooled; both men and women employ this tactic.
All smart people know that knowledge is power, and the more you know about your opponent, the better, because you'll come out as the stronger one. Oh, Janice likes to spend her weekends drinking tall glasses of wine and lies about her expense reports? Bill flirts with Suzie in the assembly line even though he has a wife? What seem to be little things end up getting used as ammo, or really just become embarrassing tidbits you wish you'd kept to yourself. So do that. Be careful who you trust and with what. It's your career on the line.