'Tis the season to be jolly. If for you that means knocking back one or two drinks, why not add a bit of flavor (literally) to those drinks by trying something new. I love when bars offer me something that's seasonal, but I hate that if I come back in a few months it likely won't be on the menu. With these cocktails, I don't have to worry because I have the recipes and can make them myself (or ask my bar tender friends to help when they come over). Try one, or three, and see which ones have the right amount of caramel or peppermint that you never thought you'd find yourself craving in a beverage.
Salted Caramel White Russian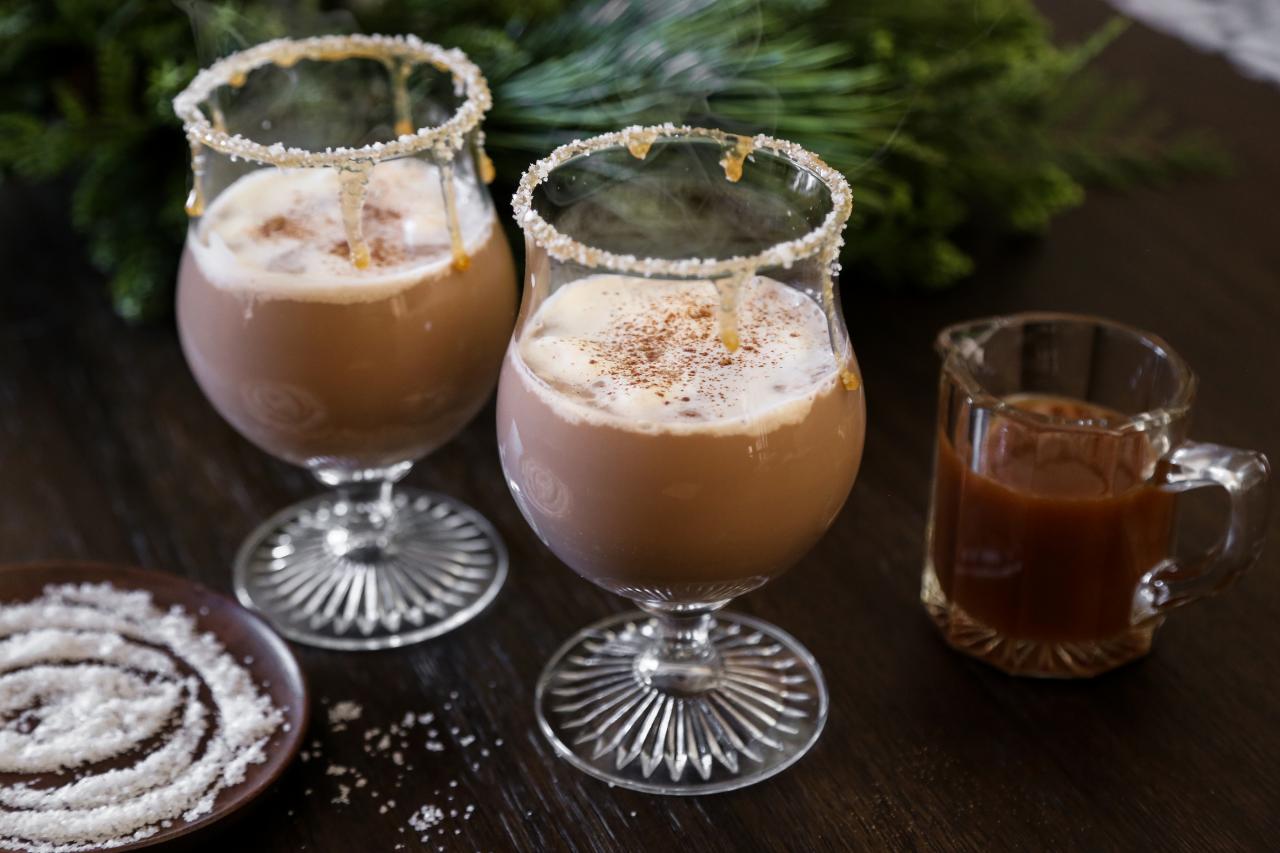 1 1/2 ounces of salted caramel vodka
1 ounce Kahlua
1 ounce coffee
ice
1/2 ounce cream or a healthy sized dollop of fresh whipped cream
caramel sauce (optional– but seriously go big or go home)
Combine vodka, Kahlua, coffee and ice in a cocktail shaker and get to shaking.  Pour over ice.  Add cream or whipped cream and top with caramel drizzle.
White Christmas Martini
1 fluid ounce heavy cream
1 fluid ounce vodka
1 fluid ounce peppermint schnapps
1 fluid ounce white creme de cacao
1 cup ice cubes
1 small candy cane (Optional)
Pour the heavy cream, vodka, schnapps, and white creme de cacao into a cocktail shaker over ice. Cover, and shake until the outside of the shaker has frosted. Strain into a chilled glass, and garnish with a mini candy cane to serve.
<https://www.allrecipes.com/recipe/212905/white-christmas-cocktail/&gt;
Slow Cooker Winter Sangria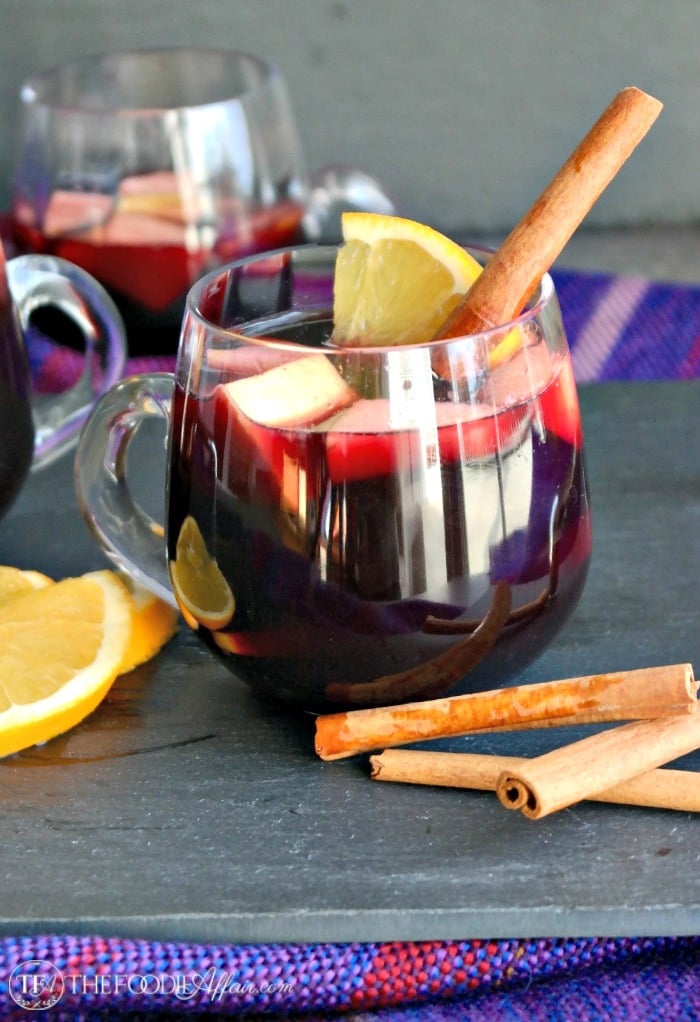 2 bottles red wine ( I used Malbec)
1 cup pomegranate juice (100% juice)
1/2 cup brandy
1/4 cup triple sec
1/4 cup sweetener of your choice (I used Swerve)
2 cinnamon sticks
1 pear, diced
1 apple, cored and diced
1 orange thinly sliced
Pour wine, pomegranate juice, brandy , triple sec and sugar in a slow cooker. Stir and mix all ingredients. Add cinnamon sticks, diced fruit (except for oranges) and turn on low for 2 hours. Add sliced oranges and enjoy!
<https://www.thefoodieaffair.com/slow-cooker-winter-sangria/&gt;
Holly Jolly Christmas Punch
2 ounces vodka
1/2 ounce St. Germain (elderflower liquor)
1/3 cup fresh squeezed clementine or blood orange juice
ginger beer, for topping
pomegranate arils, for topping
1 sprig fresh thyme or mint
Fill a cocktail glass with ice. Add the vodka, elderflower liquor (if using), and clementine juice. Top with ginger beer. Add the pomegranates and thyme or mint. Enjoy!
White Chocolate Peppermint Martini
2 oz vanilla vodka
1 oz peppermint Schnapps
2 oz white chocolate liquor
2 peppermint candies crushed
2 tablespoons marshmallow sundae topping
Coat the rim of a martini glass with some marshmallow topping and crushed peppermint candies. Drizzle some marshmallow on the inside of the glass and place in the freezer. In a shaker with ice, add the vodka, peppermint schnapps, and the white chocolate liqueur. Shake for a minute. Remove glass from freezer. Pour mix from shaker into glass and sprinkle with crushed peppermint.
Cranberry Bourbon Cocktail
2 cups fresh cranberries
1 cup orange juice
1/3 cup sugar
3 cinnamon sticks
1 liter (about 4 cups) bourbon
Orange peels, for garnish
Combine the cranberries, orange juice, sugar and cinnamon sticks in a small saucepan over medium-high heat. Bring to a simmer and cook, stirring, until the sugar dissolves and cranberries start to pop, about 5 minutes. Let cool completely, then combine with the bourbon in a pitcher. You can add in a rosemary sage syrup for an extra kick, too! This is done by combining a cup of water, a cup of sugar and sprigs of rosemary and sage. Simmer until the sugar is dissolved.
Hot Buttered Rum
2/3 cup packed dark brown sugar
1/2 cup (1 stick) unsalted butter, room temperature
1/4 cup honey
1/2 teaspoon ground cinnamon
1/4 teaspoon ground nutmeg
1/8 teaspoon ground cloves
Pinch salt
3/4 cup spiced rum
2 cups boiling water
4 sticks cinnamon, for garnish
Using an electric mixer, beat the brown sugar, butter, honey, cinnamon, nutmeg, cloves, and salt in a medium bowl until blended and smooth. Transfer the mixture to a 4-cup (or larger) measuring cup. Add the rum and then 2 cups of boiling water. Stir until the butter mixture dissolves. Divide the buttered rum among 4 mugs. Garnish with the cinnamon sticks and serve.
<https://www.foodnetwork.com/recipes/rachael-ray/hot-buttered-rum-recipe-1943195&gt;
Peppermint Chocolate White Russian
3 oz Vodka
3 oz Kahlua
2 oz heavy Cream
Garnish: Mini chocolate bar, cherry
Pre-steps: Fill your beverage glass with ice so that the glass will begin to chill.
Add some ice to a cocktail shaker.
Pour all liquid ingredients into the shaker and shake thoroughly until all ingredients are thoroughly mixed.
Pour into your glass over ice.
Add a candy cane stick or two to the drink.
Enjoy!
Poinsettia Pomegranate Martini
1.5 ounces gin (or vodka if you're not a gin fan)
1 ounce pomegranate juice
1 ounce fresh lime juice
.5 ounce simple syrup
pomegranate seeds and sliced lime to garnish
Start by adding a couple teaspoons of pomegranate seeds to the bottom of your martini glass. Set aside.
In a cocktail shaker filled with ice, add the gin, pomegranate juice, fresh lime juice, and simple syrup. Shake vigorously. (You can find the full ingredient list and detailed recipe instructions in the printable recipe card below.)
Strain into your prepared martini glass. Garnish with a fresh lime slice.