My go-to for cardio workouts is running, but with two kids and a busy work schedule, I don't make as much time for it as I should. I used to get excited about races in various cities, where the views are more than worth the price of registration, but I have that option anymore. On weekends before everyone wakes up, I debate going for a quick jog or sleeping in longer. More often than not, I use the time to read or write. However, I've found that when I have a buddy to motivate me, sticking to an exercise pattern is easy, and can even be something to look forward to. This year, I've been introduced to some things I didn't even know existed until a friend invited me to join classes with her, so I thought I'd share my experiences and see if maybe these ideas help anyone else spice up their fitness routine! Even if you only decide to try something (or everything) on here just once, I would consider my mission done.
1. Pure Barre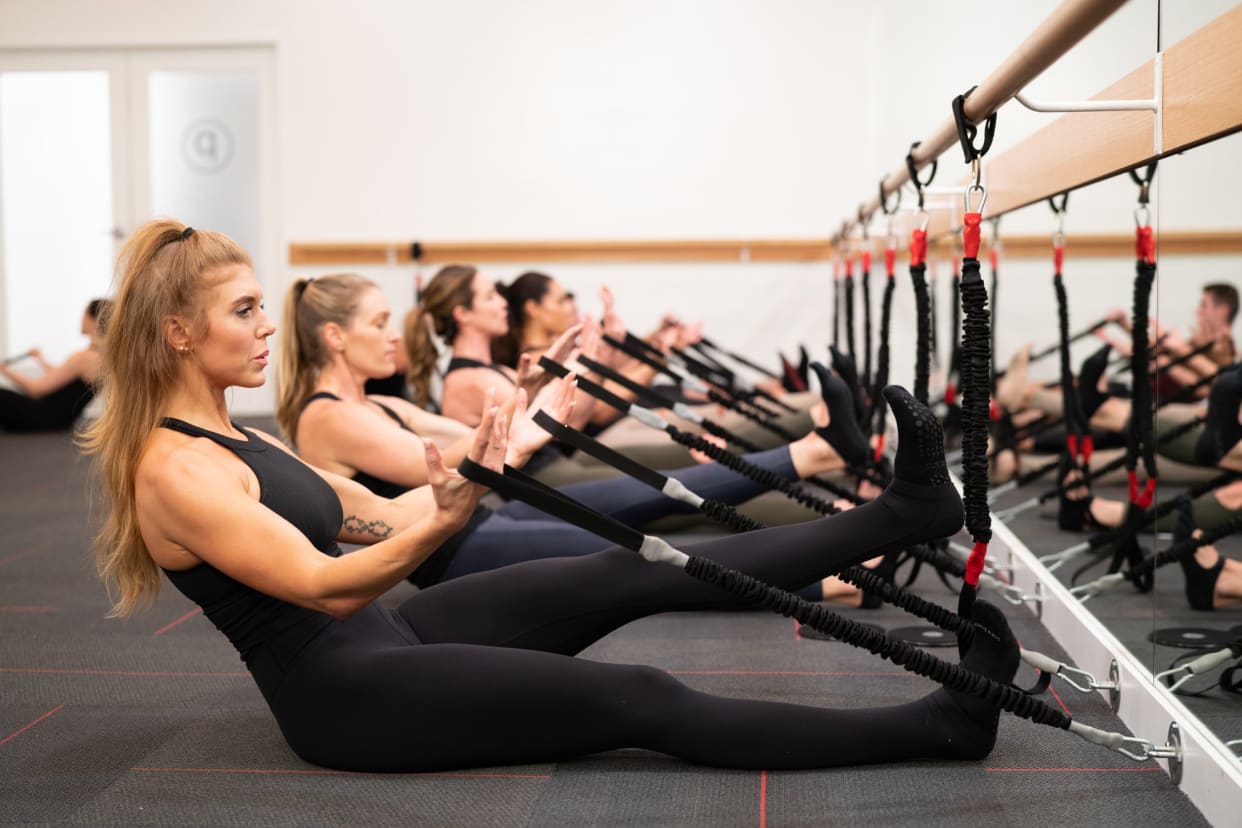 Pure Barre appears to be a combination of dance and Pilates, working to stretch and tone your muscles in a vigorous 30 to 60 minute session. They offer different intensity levels (foundations, classic, empower, and reform), based on your preference and fitness level, but I found this to be exactly what I was looking for this year. I don't like yoga, because I want to feel out of breath when I work out, yet Pilates doesn't quite do the same for my body that running does. After trying a Pure Barre class, I was happy to have found the happy medium. As with anything else, you'll have to attend a few classes before growing accustomed to the terminology of the moves, but the instructors are fun and the music is upbeat. I didn't join since right now most of the classes they have are offered only virtually, and I want the advantage of an in-person instructor, but maybe this is exactly what you want!
The first class is typically free, but the studios are franchised, so if you purchase a membership at one and are on vacation or want to join a class with your friend in their neighborhood, your "credits" don't transfer. Just remember to bring non-slip socks with you, or they'll force you to buy a pair from their shop for a whopping $18 each!
2. Spin Class (in the dark!)
When I told my husband how thrilled I was to have signed up for a spin class, in the dark, he looked at me like I was planning a murder. "Why is it in the dark?" he asked, and rightfully so. Well, I'm not sure, actually, because I didn't ask the studio this question upon my arrival lol but I do know I had a fabulous time. Besides not knowing how to buckle my shoes into the bikes, I found the experience to be rejuvenating and cathartic. A woman in an elevated box in the middle of the room basically yells at you from her own bike, anything ranging from things you'd hear in a motivational speech to a therapist's office to well, a spin class. Though it's difficult to hear because you're given ear plugs to block out the extremely loud playlist, I loved it. I felt like I was in another world for an hour; one where I was in charge, no one could see me, and I was getting the best workout of my life. During corona, they are only booking classes with max 6 students, so it made me feel a little more under the spotlight than I assume most people feel when they attend spin class, but I honestly forgot all about that once I got into a groove. The last portion of the class involved an arm workout, too, which surprised me (in a good way). I was feeling the burn for at least five days after leaving, and I would recommend to anyone looking for a unique way to get their heart rate up and perhaps let go of some stress and get out of their head!
3. Hiking
I've always considering hiking to be an activity for the more experienced. It was not until this year that I let go of that mentality and followed a pack of my friends through an eight mile trek. It began with the typical, "Will I make it?" but ended with an "I'm so glad I did that!" I was invited by my friend and wanted to try something new. Plus, my two boys love being outside, and we had been going on small hikes in other areas this summer, so I figured if the only thing stopping me from going on a real hike was the fact that I thought I couldn't do it, that was all the more reason to accept the challenge and do it. Nature is good for people, and I was long overdue for an adventure like this. I would recommend to anyone in decent shape/health. The view from the top of the view was amazing, and while I may have fallen over rocks or branches a few times, I don't regret going! Just remember to bring plenty of water and snacks when you embark on long journeys so you don't get dehydrated or run out of energy. We ran into a pair of strangers who had not yet reached the top of the mountain but were already out of water. This meant they still had to make it all the way back to the parking lot without a drop of water. Luckily, we had managed our water intake (to manage bathroom breaks and the weight of our backpack) and were able to spare one!
4. Kickboxing
Kickboxing is another one of those things which initially turned me off, because I figured I didn't have enough muscles or strength to partake. I was wrong! I started taking kickboxing classes a few years ago when a mom at a kid's gym told me her husband owned a martial arts studio and explained to me how she enjoyed attending the classes herself sometimes. I agreed to give it a shot and though it did take a while to get the swing of it, I was pleased to learn how much patience they had with beginners. Additionally, it was another workout with left me feeling quite exhausted afterwards. The combination of punches and kicks really tones your body nicely, and when you're practicing with a partner, it almost feels like a dance! You move across the mat in such a way that you must be able to read the opponent and anticipate their next move. I loved the excitement of it all and the fact that I could borrow gloves and other gear from the studio rather than purchasing my own. This studio allowed you to pay monthly and attend as many classes as you wanted, but ideally, if you want to compete, you need to attend them all and stay consistent with both the lessons and your partners, I assume.
5. Sex
This one should be obvious, but I think in the rush of trying to check off to-do lists and juggle work and household responsibilities, people forget that a fun and romantic activity such as sex can also be an amazing way to burn calories. It's also one where you can use your imagination to mix it up. There are no set rules or set gear to by in order to participate here, like in some of the ones I mentioned above. The more regular you make this one, the healthier you'll be 😉